NO EVENTS SCHEDULED CURRENTLY BUT WATCH THIS SPACE
---
Redhills Adventure/ Hobby Airsoft Giveaway Event 2nd September 2018
Following last year's sold out event we are delighted to be teaming up with Hobby Airsoft once again for an event not to be missed!
In addition to the usual open skirmish, your ticket will get you into the draw to win some fantastic prizes (listed below). WE ARE GIVING AWAY over €900 worth of prizes!
In addition and to mark the launch of our brand new activity we are including free entry into the PISTOL RANGE COMPETITION where you could win a Co2 Gas Powered 1911 Pistol worth €175!! Using the latest in Airsoft Gun Range technology, the X-Cortech XTS – 105 will test your reflexes and speed as you compete for the best time on the day!
Your ticket includes a ticket for the draw and you can purchase additional tickets priced at only €5 on the day!
PRIZES
* G&G GC16 Predator worth €355
* G&G AR 556 €310
* Colt 1911 MKIV SERIES 70 Series Silver Pistol €175
* 2 Skirmishes (€50)
* 1 Skirmish (€25)
* 20% Voucher Redhills
* FREE TARGET RANGE ENTRY
Details
* Ticket Price – Own Gear €36 (Includes Raffle Ticket, Range Comp Entry)
* Ticket Price – Rental €60 (Includes Gun, Mag, Unlimited Ammo, Mask, Uniform, Raffle Ticket)
* Includes 20% Off Voucher Next Visit to Redhills
* You simply pay your deposit online and then the balance on the day
* You MUST purchase your ticket ONLINE (not available through Hobby or Redhills directly)
* Timings 09:30 – 17:00 (Gates Open 09:30 | Close 09:45 | Access to Car Park from 09:15)
* Places are limited and all of our previous giveaway events have sold out!
* You must be present on the day and have paid in full to be entered into the draw
* New Players Welcome, Membership not required for this event
* Minimum age 12 years or older
* No ticket refunds once purchased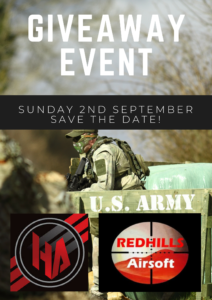 Morpheus | Judgement Day 2016
About
A themed skirmish played mainly at night with characters and a story line. Morpheus Judgement Day is suitable for ages 12 and up with own gear and 16 and up renting guns and playing for the first time. See specific criteria below.
Dates and Gates
Sat 15th and Sun 16th October 2016
ie Two date options – same event each night
Gates 3pm-330pm – Access to car park 2:45pm.
PLEASE DO NOT ARRIVE BEFORE 2:45PM AS THERE IS LIMITED SPACE AT THE ENTRANCE AND EARLY ARRIVALS BLOCK THE ROAD FOR LOCAL TRAFFIC
Games until 10:30pm each night (May run over slightly)
Booking and Prices
Once paid, slots are non-refundable, non transferrable to other players or other nights so please ensure you can make it before confirming.
Own gear €35
A €20 own gear deposit will be required to hold spaces with the balance due on the night.
This can be paid onsite any Saturday or Sunday with us if you are booked in to game or during the following times 09:30-10am Saturday or Sunday or Sunday evenings 445pm-530pm. Alternatively, a link to our payment portal can be sent on request to you to make payment.
Full Rental Package €60
Ak Spetnasz Automatic Rifle, Torch, Magazine, Unlimited Ammo, Uniform – €60 | Ankle Support – €2 (Required if no proper ankle boots) | Combat Gloves – €3 (Optional Extra)
Please NOTE – All rental packages must be paid fully in advance. Please contact us directly by phone or email or via Facebook with details of your booking, names and ages of all players and whether they have played at Redhills before. A link to our payment portal will be sent to you to make payment.
Eligibility and min age
This event is played mainly at night with multiple themed characters. For this reason the min age is as follows and ID may be required.
1. Own Gear Players | 16 years+
2. Own Gear Players Aged 12-15 years |  You must have played at Redhills before with your own gear. We can verify this so please make sure this is the case prior to booking in.
(Note – We will allow first time Own Gear players aged between 12-15 years if accompanied by an adult player on the night, please contact us with the request.)
3. Rental Packages | Min age 16 Years +
4. This event is played at night and with special characters and may not be suitable for young players of a nervous disposition or who require adult supervision. The organisers reserve the right to refuse participation should they feel any player is unsuitable.
Special Notes
Torches are mandatory for this event but will be supplied with all rental packages.
Own Gear players – We have a  limited amount for purchase on the night at €15 or €20 with a mount.
Hot Food
Available
Event Page
Follow the event page here – Event Page Facebook
Making a booking
Please email info@redhillsadventure.ie with the following information –
– Full Name of all players
– Age of all players with each name
– Whether they have own gear or require rental packages
– Any medical conditions we should be aware of